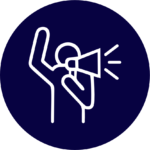 Ahmed I. Sani
Director, Civic Engagement and Advocacy
Civic Engagement and Advocacy represent a dynamic and impactful approach to fostering active citizen participation and strengthening the civic space. Our comprehensive method empowers individuals to become effective change agents through the Civic Changemakers Fellowship program, which equips them with the necessary skills, knowledge, and platforms to learn and engage in meaningful advocacy and community-based initiatives.
In response to the shrinking civic space, we advocate for social justice and promote the culture of civic engagement to enhance democratic values, strengthen grassroots movements, and ultimately contribute to the progress of society while fostering collaboration, empowerment, and positive change.
These efforts encourage the development of informed, passionate voices that influence policy decisions and promote inclusive governance.